Microsoft fined $730 million over browser choice
The European Union imposed a sanction on Microsoft after it failed to comply with a settlement where it promised to present Windows users with easier access to other Web browsers.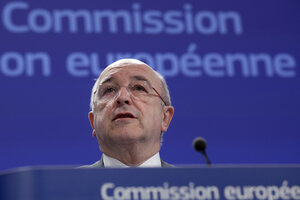 Viginia Mayo/AP
The European Union fined Microsoft Corp. £561 million ($730 million) for failing to allow Windows users to easily choose browsers other than Internet Explorer.
Microsoft and EU made a settlement in 2009 after the commission started investigating allegations that the company abused its dominant position in desktop software by tying Internet Explorer to Windows, EU commissioner Joaqúin Almunia says in a statement delivered in a news conference Wednesday.
Microsoft agreed to give Windows users the chance to install other Web browsers at the outset, by displaying a "browser choice screen" listing other browsers. However, Mr. Almunia, the vice president of the European Commission for Competition, says Microsoft did not live up to its promise. While Microsoft did make the choice screen available in March 2010, the company did not include it in a Windows 7 service pack software update from May 2011 to July 2012.
"Following an in-depth investigation and taking into account Microsoft's reply to our objections, today's decision finds that Microsoft has indeed breached its legally binding commitments," Almunia says. "Such a breach is of course very serious, irrespective of whether it was intentional or not, and it calls for a sanction."
---