Google I/O sells out in less than an hour
Google is widely expected to show off new details of its Project Glass headset at the I/O developer conference in June.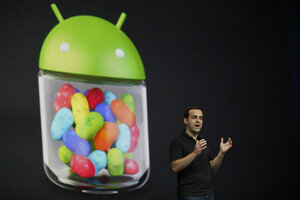 Reuters
At 10 a.m. Eastern, Google officially opened registration for its Google I/O developer conference, which will be held from May 15 to 17 at the Moscone Center, in downtown San Francisco. Less than an hour later – or 49 minutes exactly, by one estimate – the event was completely sold out. Last year, of course, Google I/O tickets vanished within twenty minutes. Still, 49 minutes ain't too shabby.
So why is Google I/O such a big deal? Well, for one, even though the ticket price is high – $900 for members of the public, $300 for academic faculty and students, according to PC Mag – the gift bags tend to be worth the price of admission alone.
Consider, for instance, that last year, I/O attendees received a Google Nexus 7 tablet, a Google Nexus smart phone, and the Google Nexus Q orb.
---