PC sales set to plummet as tablet sales take over: report
Analytics firm Gartner has painted a grim portrait of the PC market over the next couple years. But is it accurate?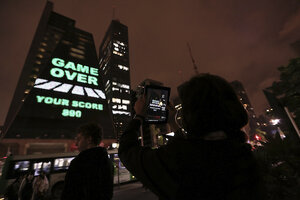 Reuters
Sales of traditional PCs are slipping and will likely continue to slip as consumers turn to tablets such as the iPad and Nexus 7.
That's the upshot of a new Gartner report released today, which predicts that sales of notebooks and desktops – old-fashioned computing devices, in other words – will drop 7.6 percent from 2012 to 2013. The numbers break down like this: In 2012, worldwide shipments of notebooks and desktops totaled 341 million, according to Gartner. Meanwhile, tablets totaled 116 million.
But this year, shipments of notebooks and desktops will total 315 million, and shipments of tablets will increase, to 197 million. And by 2017, Gartner predicts, shipments of tablets will far outstrip shipments of notebooks and desktops. In a press release, Carolina Milanesi, research vice president at Gartner, said the shift was the result of the ability of modern tablets to duplicate much of the PC experience.
"While there will be some individuals who retain both a personal PC and a tablet, especially those who use either or both for work and play, most will be satisfied with the experience they get from a tablet as their main computing device," Ms. Milanesi says. "As consumers shift their time away from their PC to tablets and smartphones, they will no longer see their PC as a device that they need to replace on a regular basis."
---