New iPad? Leaked photos point to slimmer build.
New iPad leaked: Photos from a French website reportedly show the newest Apple iPad.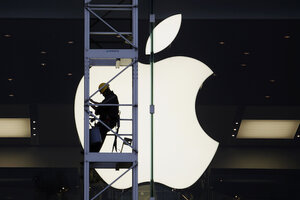 Reuters
The fourth-generation Apple iPad was released in November of last year. By the rubric of Apple product launches, that likely indicates that Apple will release the fifth-generation iPad sometime in 2013. (It's worth noting that Apple has ditched the numeric designations for its tablets. There is no iPad 3, or iPad 4 – there is only the iPad). So what will the next device look like?
Well, if a new photo released by the French tech site Nowhereelse.fr is to be believed, the 2013 iPad will be thinner than its predecessors, but have the same general design. According to Nowhereelse.fr, which calls the image the "first evidence of the imminent release of the next iPad," the source for the leak is an anonymous source within the Chinese supply chain. So yes, worth taking this one with a grain of salt.
But as Lance Whitney of CNET points out, Nowhereelse.fr does have a decent track record with this kind of stuff – the images it acquired of the iPhone 5, for instance, ended up being dead on accurate. (Apple, unsurprisingly, has not yet issued comment on the reported leak.)
---