Verizon continues to grow, despite complaints from some customers
Verizon has shown strong earnings in its first-quarter report, but it is also facing criticism from a growing number of customers who want their contracts eliminated.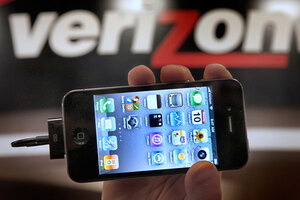 Amy Sancetta/AP/File
The country's largest 4G LTE carrier continues to grow. Verizon Wireless' first-quarter earnings report shows an increase in sales and revenue.
The company, which released its first-quarter report today, shows total operating revenues of $29.4 billion, a 4.2 percent increase from last year.
The report shows an increase of FiOS revenues as well, with 15.1 percent growth for FiOS video and FiOS Internet.
Verizon is also faring well with smart phones. CNET reports that Verizon sold 7.2 million smart phones, 28 percent of which went to new Verizon customers. About 4 million of the smart phones sold were iPhones.
"Verizon is off to an excellent start in 2013," says Lowell McAdam, Verizon chairman and CEO, in a statement. "Our strategic investments in wireless, wireline and global networks have given us the platforms to sustain momentum and take advantage of growth opportunities in key markets for broadband, video and cloud services. With ongoing improvements in operating efficiency, we expect continued growth in free cash flow and earnings as we move through the year."
---