Galaxy S4 now at the center of latest Apple, Samsung legal battle
The ongoing legal showdown between Apple and Samsung enters a new phase.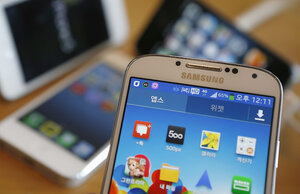 Reuters
And the war between Samsung and Apple rolls inexorably onward.
The latest front involves the Samsung Galaxy S4, the successor to the extremely popular Samsung Galaxy S3. In papers filed this week in US District Court in California, Apple claims that the S4 violates five Apple trademarks, including one involving the Siri voice-powered personal assistant, another involving a data retrieval system, and a third revolving around "asynchronous data synchronization amongst devices."
"Apple obtained the Galaxy S4 on April 27 and immediately began its infringement analysis, including Samsungs customizations of the Android Jelly Bean platform, covering the eight asserted patents," Apple wrote in the filing (hat tip to IDG). "That analysis revealed that the Galaxy S4 infringes five of Apples asserted patents in the same ways as Samsung's already accused products."
---