Huawei Ascend P6: Super-svelte smart phone set to debut this summer
The Huawei Ascend P6 is very slim. But is it actually any good?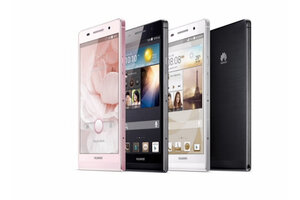 Huawei
Chinese tech giant Huawei has debuted a smart phone that it claims is the thinnest in the world.
The Ascend P6, which will launch in China and Europe this summer, is 6.18 millimeters thin – or approximately 0.25 inches. (By comparison, the iPhone 5 is 7.6 millimeters – or roughly 0.29 inches – thick.) Weight, meanwhile, is a feathery 120 grams, or 0.26 pounds. Which isn't to say Huawei has stinted on the specs: The P6 gets a 1.5GHz quad-core processor, a 4.7-inch HD display, and the Android 4.2.2 operating system overlaid with a custom Huawei "Emotion" UI.
There's also an 8-megapixel back-facing camera and a 5-megapixel front-facing one.
But is the Huawei Ascend P6 actually any good? Well, a slow trickle of early hands-on impressions have begun hitting this morning, and the answer appears to be a qualified yes. Over at the tech blog Pocket-lint, Stuart Miles (who tested out a pre-production version of the P6), finds the camera adequate, the 2000mAh battery up to snuff, and the design solidly stylish.
---