Google at work on Android watch, video game console: report
Google could be building both a wrist watch and a video game console, both of which would be powered by Android.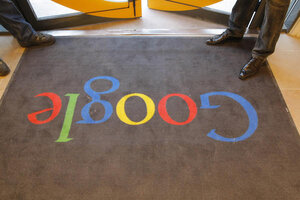 Reuters
Google is at work on a video game console and a wrist-watch.
That's the word today from The Wall Street Journal, which reports that at least one of the Android-powered devices could be unveiled as early as the fall – thus theoretically putting the console in direct competition with the forthcoming Microsoft Xbox One and the Sony PlayStation 4. The watch, meanwhile, would probably be an attempt to stave off similar hardware reportedly being developed by Apple.
There are a lot of maybes here, and the Journal has sourced its article only to "people familiar with the matter." Google isn't commenting at all.
Still, as Rik Myslewski of the Register points out, there's plenty of reason to believe the report.
"If Google is serious about its plans for world domination – and there's never been a scintilla of evidence that it isn't – the extension of Android into more and more types of devices is most certainly part of that plan," Mr. Myslewski writes. "In addition, Google has also not shown much compunction about moving into hardware areas in which its partners now play. Not much success, either – but that could change."
---