Microsoft gave NSA access to encrypted messages
Microsoft worked closely with the NSA, granting access to encrypted messages, according to leaked NSA documents published in the Guardian.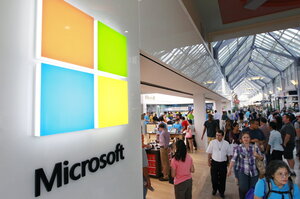 Steven Senne/ AP Photo/ File
Microsoft collaborated with US intelligence agencies to circumvent the company's encryption, allowing the National Security Administration to intercept users' correspondences, according to the the Guardian newspaper.
After the initial revelation of the PRISM surveillance program in early June, Microsoft downplayed its role in government surveillance, as did other Internet companies implicated in the program, such as Google, Yahoo!, and Facebook.
This latest round of leaked NSA documents, published by the Guardian, shows a much deeper association between the federal security apparatus and Microsoft than the company originally portrayed.
Edward Snowden, a former NSA employee, described the classified PRISM surveillance program to the Guardian and the Washington Post, and has provided documents revealing the surveillance program's inner-workings.
Microsoft began testing encrypting software in July 2012 that would, theoretically, make correspondences such as emails and chats accessible only to the sender and receiver. But, Microsoft gave the NSA access to user accounts at the "pre-encryption" phase leaving the Prism collection program "unaffected," reads one of the leaked NSA documents, published by the Guardian.
Microsoft also gave government officials access to its cloud storage service, SkyDrive, "without separate authorization," according to the documents.
---