Jane Addams Hull House brought to digital life on Google
Today's Google doodle pays homage to Jane Addams and the Hull House, one of her biggest contributions to history, on her 153rd birthday. But what exactly did the Hull House offer and where does it stand now?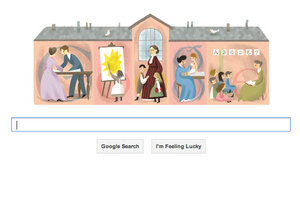 Google
On busy Halsted Street in the Near West Side of Chicago, the Jane Addams Hull House is nestled in a corner of the University of Illinois-Chicago campus, just a quaint Victorian-style home, leafy courtyard, and empty dining hall.
But the historical significance of this house, and its founder, Jane Addams, lives on in the fields of sociology, feminism, pacifism, and education to this day.
And today, the Hull House got a second life in digital form. In honor of the 153rd birthday of Ms. Addams, Google created an online Hull House as its home page logo.
The doodle depicts a cheery red house with a gray roof. Inside, two students discuss research, a child paints, a woman (presumably Addams) chats with two children, a woman doctor checks on a patient, and a teacher reads to children. These were a few of the many functions of the Hull House: a place for scholars to study sociology and social work, a place where children were accepted and encouraged to create, a resource for health and education in the neighborhood. Today, these seem like normal social services. At the time, this was revolutionary.
The Hull House was the first American settlement house, created by Addams and Ellen Gates Starr in 1889. They originally met at Rockford Female Seminary in Rockford, Ill., and later traveled together to Europe. While in London, they visited Toynbee Hall, a center with social services for the poor in the East End neighborhood. Inspired by its method of creating a center of resources for the poor in needy areas, Addams and Ms. Starr returned to Chicago, intent on replicating the idea in the US.
When the women first set up Hull House (named for the builder, Charles Hull), the Near West Side was not the hip, college neighborhood it is today. It was a densely populated urban center; its residents were recent Italian, Irish, German, Bohemian, Greek, Russian, and Polish immigrants, many of whom worked in local factories and stockyards. Later, the neighborhood also became home to many African-Americans and Mexican immigrants. Many neighborhood residents had little education or livelihood, and even less social capital.
---