Wal-Mart's iPhone prices undercut Apple's own
Wanna pick up a new phone? Check out Wal-Mart. iPhone prices will be dramatically cut this month. The retail giant is undercutting Apple's official prices on the new iPhone 5C and older models.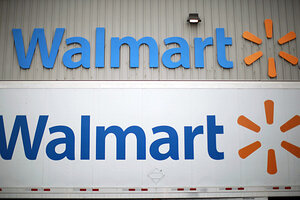 Rick Wilking/Reuters/File
When most people think of getting an iPhone, they think of heading to a shiny white Apple store with blue-shirted employees.
But budget-conscious Apple shoppers may be better served if they head to a store with blue-aproned cashiers.
Wal-Mart announced it will be offering the iPhone 5C starting at $79 ($20 less than the list price) on contract from AT&T, Sprint, or Verizon – the lowest offer on a current-generation iPhone to date. The retailer will also be offering the iPhone 5S starting at $189 (a $10 discount).
Don't need the latest version? You're even more in luck. Wal-Mart will be offering the iPhone 5 for $79 with a two-year contract, the iPhone 4S for 79 cents with a two-year contract, and the iPhone 4 for only 10 cents with a two-year contract, plus they'll throw in a $100 gift card. Not a bad deal.
Why the lower price? Apple has been notoriously strict with its pricing, strongly suggesting the official Apple sticker price to retailers. Generally, stores stick to this scale because Apple offers a financial incentive to stores that sell at the price point (or above) according to Bloomberg Businessweek. This incentive keeps Apple's pricing (along with their branding and messaging) simple and straightforward.
---