Tesco Hudl and Microsoft Surface 2: tablets from new and old retailers
This week brings the Tesco Hudl, a supermarket-made newcomer, and the Surface 2, Microsoft's second attempt at a tablet.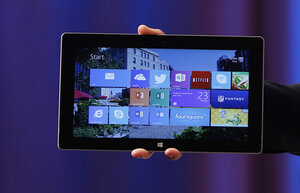 Shannon Stapleton/REUTERS
A shopping list for British supermarket chain Tesco now could look like this:
-Eggs
-Milk
-Bread
-Tablet
That's because Tesco just rolled out an original tablet, designed for the lower end of tablet consumers looking for basic technology and a cheaper price. But that isn't the extent of recent tablet news. Despite poor sales from its first tablet offering, Microsoft released the Surface 2 and Surface Pro 2 in hopes that fixing some key flaws in the original design will attract new tablet customers. But do either have a shot in the increasingly saturated tablet game?
Tesco's tablet, called the Hudl, offers no tablet innovation, but its simple design, usability, and budget-friendly price could win over shoppers that are already fans of the supermarket's low prices and accessibility. The 7-inch Hudl runs on the latest version of Android, has 16 GB of memory, a 3 megapixel camera, and nine hours of battery life. It will come preloaded with Google Chrome, YouTube, and BlinkBox, an online TV service Tesco recently acquired. The device comes in four colors (black, blue, purple, red). There will also be a small 'T' logo in the corner of the screen that customers can tap to access online shopping and other Tesco services, which Tesco hopes will make shoppers even more loyal to the brand.
Though the technology of this device is nothing outstanding, Tesco chief executive Philip Clarke says the Hudl is more about appealing to the majority, non-techie crowd.
---