Ohio 'green farmer' is a model for legislators
Ralph Dull read a book on wind generators and became a pioneer in environmentally friendly farming.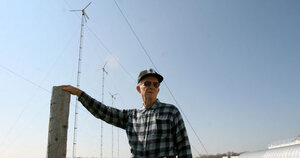 AP Photo/Skip Peterson
When he was laid up recovering from knee surgery, farmer Ralph Dull picked up a notebook dropped off by a friend that detailed how wind generators produce electricity."I had plenty of time to read it," Mr. Dull recalls. "And I said, 'That's something we could do."'
Dull has since become an Ohio pioneer in green farming and renewable energy, and his efforts have garnered the attention of Ohio legislators, who turn to him for creative ideas on agriculture's role in environmental protection.
"He is demonstrating through his farming practices that you can have a profitable farming operation while caring for the earth," says Ohio Gov. Ted Strickland, who wants the state to rely more on alternative energy and is pushing a stimulus package that would earmark $150 million for advanced energy sources such as solar power, wind, and clean coal.
There are six wind generators on Dull's 2,800-acre farm in western Ohio. In one building sits a machine that produces hydrogen made from electricity and water. Dull hopes it will soon replace the gas in his forklifts and supplant the propane that heats his pig barn. Dull's office is geothermally heated and cooled. He dries his seed corn by burning rejected corn instead of propane, and he grinds corn cobs to sell as horse bedding and mulch.
---