Home solar: What kind of system should you buy?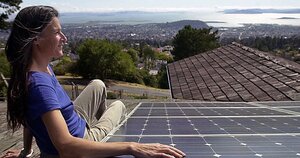 Q: I am considering solar panels for my roof to provide heat for my hot water and possibly to do more than that. Are some kinds of solar panels better than others? How do I find a knowledgeable installer?
– Elise, Watertown, Mass.
A: The type of solar energy capture system you put on your home depends on your needs. If you want to go full tilt and generate usable electricity from your home's rooftop – and even possibly contribute power back to the larger grid – tried-and-true photovoltaic arrays might be just the ticket. A typical installation involves the panels, which are constructed of many individual silicon-based photovoltaic cells and their support structures, along with an inverter, electrical conduit piping, and AC/DC disconnect switches.
These systems can cost tens of thousands of dollars to install, and as such may not pencil out for those looking for the cheapest power solution. But the upside is that homeowners with photovoltaic panels on their rooftops can rest assured that as long as the sun shines, they will have power to spare without generating carbon dioxide and other noxious pollutants.
Qualified solar installers can usually advise clients on which types of systems will work best given the specific location of a home. US homeowners can find qualified photovoltaic installers via the website FindSolar.com. And the North American Board of Certified Energy Practitioners (NABCEP) provides a free searchable database of its US and Canadian members specializing in home solar setups.
---