With Prop. 7, California argues its energy future
The ballot initiative would mandate more renewables. So why are many environmentalists against it?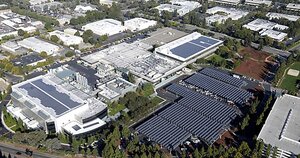 Business Wire
California, which leads the country in cutting the greenhouse gases that cause global warming, is trying to accelerate its "green revolution."
But several leading research and environmental organizations warn that the latest attempt could backfire, reducing the state's push to embrace renewable energy.
A citizen's initiative – Proposition 7, which goes before voters Nov. 4 – requires all electric utilities to provide half of their electricity from solar and other clean energy sources by 2025. The initiative would double what utilities are now asked to do under the state's Renewable Portfolio Standard. Currently, California utilities derive about 11 percent of their electricity from renewable sources.
Meanwhile, the state is already struggling to implement the landmark California Global Warming Solutions Act of 2006 requiring a 25 percent cut in industrial greenhouse gases by 2020.
Prop. 7 is a dangerous anomaly, say several key observers, because it is well meaning, but incompetently written.
"This was put together by a firm with no experience in this industry with political consultants whose only focus was to write a title and summary that made it appealing to voters," says V. John White, director of the Center for Energy Efficiency and Renewable Technologies, a nonprofit research and advocacy group in Sacramento.
"This is a very complicated initiative on top of existing state law which is not meeting its goals because of flaws," says Mr. White. "They should have asked for help and didn't. They made several unintentional mistakes because of the way they drafted it."
---