Iceland strides toward a hydrogen economy
Global economic crises underscores urgency of the goal, even as it delays progress.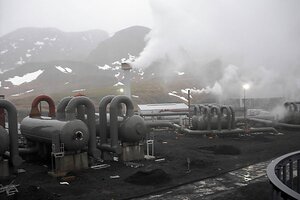 Colin Woodard
It looks much like any other filling station: Shell-branded gasoline pumps lined up before a brightly lit convenience store on the shoulder of a busy highway. But this is the hub of one of Iceland's most ambitious projects, an obligatory stop for visiting foreign dignitaries that offers a glimpse of what might be the future of human transportation.
This is no ordinary Shell station. Just to one side, where you might expect to find diesel pumps, stands the world's first commercial hydrogen fueling station. Pull up in your hydrogen-powered car, swipe your credit card, attach the pump fixture, and in five minutes you'll be back on the road, your tank full of emissions-free fuel produced right at the filling station from water and sustainably generated electricity.
"It's a completely green car, with only water coming out of the tailpipe," says Jon Bjorn Skulason, general manager of Icelandic New Energy, who drives one of the city's 14 hydrogen-fueled vehicles. "If we complete our plans, we will be a zero-emissions society. We would not have to import fuel from foreign sources, and we would be 100 percent sustainable, which must be the true future of the world."
While many countries talk about sustainable energy and redu­cing greenhouse-gas emissions, Iceland is committed to weaning itself off fossil fuels altogether by the middle of the century. Instead of importing oil to power its cars and fishing vessels, this remote island nation of 300,000 plans to power them like everything else here: with electricity from hydroelectric and geothermal plants.
In recent decades, Icelanders have harnessed meltwater from massive ice sheets and the steam that pours from its volcano-dotted landscape, which together generate virtually all the island's heat and electricity. In the dead of winter, Icelanders use geothermal heat to grow bananas in frost-covered greenhouses, and to warm the streets and sidewalks of central Reykjavík.
---