Dig the coal, bury the carbon
New coal-fired power plants will capture CO2 and inject it into the earth.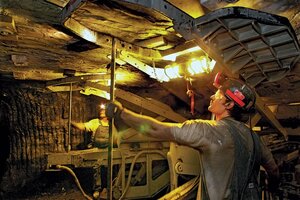 Seth Perlman/AP/FILE
EDWARDSPORT, IND.; and DECATUR, ILL.
On the back roads near Edwardsport, Ind., jutting from a hillside carpeted with corn, a steel tower conveyer belt lifts from a mine below a black stream that spills out to become a growing mountain of coal.
Corn used for ethanol may be renewable, but coal is still king of energy crops in the boot tip of the Hoosier State. Yet if coal is to keep its crown, the phrase "clean coal" will need to be more than a slogan.
Power utilities, coal producers, and coal-rich states are racing to preserve coal's viability as a fuel, as Washington pushes to cap carbon emissions. This region is also working to establish itself as a hub for storing greenhouse gases deep underground permanently. To do that, however, will require technology that can capture carbon dioxide (CO2) emissions from coal power plants at moderate cost.
While many environmentalists decry any further deployment of coal-based power technologies, some people say that because coal is cheap, it will continue to be used for power generation worldwide and therefore carbon capture and sequestration (CCS) technology is critical to curbing global warming.
"We have to show ourselves and others how to do this – how to slow these emissions – or it's going to be game over," says John Thompson, director of the Coal Transition Project of the Clean Air Task Force, a national environmental group.
At least one-quarter of the 30 billion tons or so of new human-caused CO2 emitted each year comes from burning coal to generate power, according to Emerging Energy Research, an energy market-research firm in Boston.
---