The great electric car race of 2010
This year, more automakers will roll out electric cars to American roadways.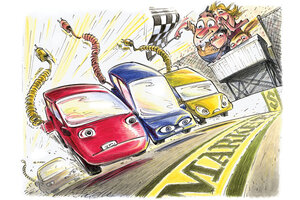 Dan Vasconcellos
For Jason Hendler and more than 50,000 others who put their names on an Internet "want list" in hopes of one day owning the Chevrolet Volt plug-in car, the wait is almost over.
After more than two years of online debating, wailing, and waiting with each other, Mr. Hendler and his fellow Volt-ophiles could actually have the long-promised hybrid electric-drive vehicle sitting in their driveways this fall – at least in theory.
It may be a long shot to actually get one, he acknowledges, at least this year. Only 7,000 to 10,000 Volts are supposed to be made available this fall. Just a few thousand more competing electric-drive cars will be available for sale this year – such as the Nissan Leaf, BYD e6, and Fisker Karma.
Yet for Hendler and the nation, 2010 is when the rubber hits the road and the electrified next generation of vehicles gets a reality check. Real buyers will be kicking real tires, forking over a slice of their life savings, and gliding off dealer lots in glorious all-electric silence.
"These are not tiny electric 'punishment' cars," Hendler says in an interview. "They're tangible, real cars that people would really want to buy. Until now electric vehicles have been more like a golf cart. Now they have range and highway speed and performance we've never seen before."
Expert watchers of the plug-in phenomenon concur.
---