Balance America's checkbook. Be a 'Budget Hero.'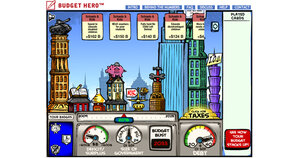 With the US national debt weighing in at $9.3 trillion and growing by more than $1.5 billion a day, haven't you ever thought, "heck, I can do a better job than Capitol Hill!" Here's your chance.
American Public Media crafted a free online game that puts you in charge of the nation's budget. Budget Hero lets you tweak taxes, strategize military spending, and brainstorm about education reform.
Virtual cards represent many possible spending programs. Invest in the cards you like, ignore those that the nation can do without. The designers spent months collaborating with government agencies to make the numbers as realistic as possible while ensuring that the game only takes a few minutes to play.
Once you've built your utopia, the game calculates your budget and lets you compare finances with other players.
[Via Wired's Game|Life]
Also check out:
Sharpen your political 'iCue'
Christian video game creates a stir
Enjoy the video game? Then join the Army.
Patchwork Nation
---
Follow Stories Like This
Get the Monitor stories you care about delivered to your inbox.