TV networks vs. social networks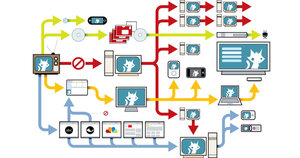 Chris O'Brien/San Jose Mercury News/NEWSCOM
The median age for TV viewers hit 50 last season.
To paraphrase Variety, that means that if today's TV audience were a person, it wouldn't even be a part of the target demographic anymore.
For the first time since Magna Global started keeping count, less than half of network-TV viewers now fall into the coveted 18-49 demo, according to a new study. And the percentage of older viewers is likely to rise.
Don't chalk up this shift to the graying of the baby boomers. They're certainly passing 50, but they're not driving this trend, says Magna analyst Steven Sternberg. It's just that younger people have other things to do.
"Traditional television is no longer necessarily the first screen for the younger set," he says. For many, that "first screen" is now their computer.
These numbers only track live TV audiences, i.e. it doesn't count anything that's recorded on a TiVo to watch later. But even if you factor in shows watched seven days after they aired, the median age for the networks (other than CW and Univision) drops to 49 – a measly one-year difference. (In case you were wondering, the median American is 38 years old.)
---
Follow Stories Like This
Get the Monitor stories you care about delivered to your inbox.