Hawaii seeks 'Better Place' through electric cars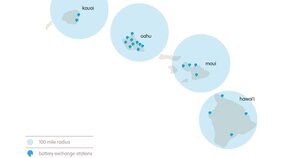 Better Place
Hawaii has an "extreme oil addiction," according to Gov. Linda Lingle. Ninety percent of her state's energy comes from imported oil, costing about $7 billion a year. A third of that oil makes its way into automobile tanks as gasoline. With gas on the islands still hovering around $2.65, Hawaiians spend more money on their cars (taxes, insurance, and fuel) than Americans on average in any other state. Governor Lingle's solution? Go electric.
The state has called in California startup Better Place to seed Hawaii with 50,000 to 100,000 electric-car recharging stations by 2012. The $100 million project comes as a three-part effort to radically overhaul the state's energy diet.
First, Better Place power spots will pop up in parking lot and downtown areas. As The Wall Street Journal reports:
Under the plan, consumers would buy or lease electric cars, and Better Place would supply recharging services and batteries. Consumers would have a choice of buying mileage plans -- which would include recharging services and battery swaps -- or being guests on the network and paying for each battery charge.
---