Q&A with GM's hybrid chief Robert Kruse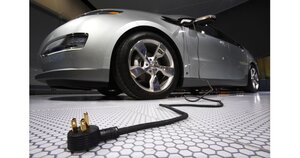 Mark Blinch/REUTERS
General Motors was the first major auto maker to announce it would build a plug-in hybrid vehicle. The Chevrolet Volt will be a new-type of car that goes 40 miles on a single charge before a gasoline engine kicks in to recharge batteries. President Obama has said such vehicles are key to unhooking the nation from foreign oil dependence.
Yet finding battery technology with the right cost, safety, durability, and performance is critical. Robert Kruse, GM's executive director of global vehicle engineering for hybrids, electric vehicles, and batteries, explained his thoughts on emerging plug-in hybrid vehicle battery technology in an interview with the Monitor. For the full story on the worldwide race for better batteries, click here.
On how far lithium-ion battery technology has come on safety, cost, durability, and performance – and whether it is ready for prime time:
RK: When we introduced this concept not long ago, it seemed to resonate. So we said, 'Hey we've got to figure out how to do this. The battery didn't exist. We went through a very elaborate search of cell chemistry and construction. I want to say we looked at hundreds in the early days of the volt. And in that process, we developed what I would describe as probably one of the most rigorous cell assessment processes in the industry.... That enabled me a year ago to pick A123[Systems of Watertown, Mass.] and one of their cells, and [Korean chemical company] LG Chem and one of their cells, coupled with a couple of pack suppliers.... We selected LG as the cell source for Gen-one Volt; and we are also very intrigued and attracted to some of what A123 has to offer and are continuing to do advanced development with A123 for future applications – just not Gen-one Volt.
---