USGS: Eruption risk from Alaska volcano rising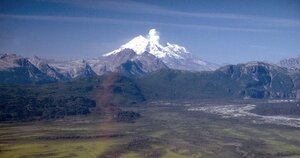 Image courtesy of AVO / U.S. Geological Survey / C.A. Gardner
Alaska's known for dramatic scenery. That scenery is there because of very active geology.
Case in point: Mt. Redoubt, a 10,197-foot active volcano 103 miles west of Anchorage. Scientists at the US Geological Survey's Alaska Volcano Observatory (AVO) are keeping close tabs on the mountain. They say an eruption may be imminent.
(You can monitor the mountain too, weather permitting. Government scientists have set up webcams at two locations, here and here.)
Last fall, it showed signs that it may be waking up after a decade's slumber. Since Jan. 23, that activity has been rising -- largely marked by an increase in tremors recorded by seismic sensors near the summit.
According scientists to the AVO, the first tip that the mountain might be clearing its throat again came via peoples' noses. Toward the end of last September, residents downwind of the volcano reported the pungent rotten-egg smell of hydrogen sulfide. The AVO ordered up some overflights of the mountain. Sure enough, scientists detected higher-than-usual levels of carbon dioxide, sulfur dioxide, and hydrogen sulfide.
So far, the AVO has put the area on an eruption "watch," vs. a more clear-the-decks "warning." And it's posted an orange aviation alert for the mountain. Anchorage is a crossroads for international flights to and from Asia. Memories remain strong of the 1989-90 eruption sequence's effect on KLM Flight 867.
---