Want list: Always Innovating's Touch Book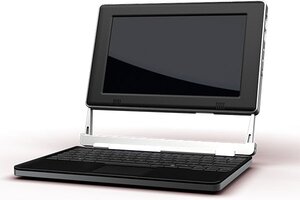 Always Innovating
Every once in a while a product is released that changes the game, breaks the mold, flies in the face of convention. The iPhone comes to mind, as do Tivo, the Slingbox, and the Roomba.
The Touch Book from Always Innovating won't sweep your floors or record "Lost," but it has the potential to shift the way we think about computers.
With its mobile-optimized ARM processor housed in an 8.9-inch touch-screen display, the computer pulls a pretty nifty trick. It loses its head. Use it like a laptop, as an easel, or as a tablet. Or put its magnetic back to use and hang it on your fridge. It's part netbook, part tablet PC, part something completely new. Call it a Frankengadget.
And its form-factor isn't the only thing dropping jaws. Its price tag, starting at $299, puts it in line with iPods and iPhones – and it's a tank of gas and snacks cheaper than Amazon's Kindle 2.
---
Follow Stories Like This
Get the Monitor stories you care about delivered to your inbox.