Yes, Matt Drudge still matters. For now.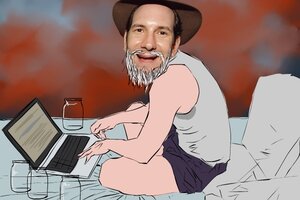 Photo illustration by Jacob Turcotte
What's the most influential website in the world?
The answer has long been the Drudge Report, a right-leaning, glorified news aggregator headed up by Matt Drudge. Why is it so influential? Because, as Gabriel Sherman wrote recently in the New Republic, the Drudge Report "is read religiously by Washington's reporters, political operatives, and cable news producers... [and] it retains a striking ability to dictate what appears in the mainstream press." Think of the modern news machine like a stack of dominoes, with each block kicked forward by the last – from a newspaper like the Monitor or The New York Times to the tiniest of personal blogs. The Report may not stir up the most traffic on the web – it averages, according to some reports, a not-too-shabby 20 million hits a day – but it is the first domino to fall.
Prove it
If you don't believe us, sign on to Drudge tomorrow morning. Watch the stories that get major play. Wait two hours. Now turn on the television. Sit, stir, repeat as necessary. Sherman's angle is that Drudge is still the reigning force on the web, but that he has become a Howard Hughes-type recluse; he's rarely seen in public, and he's hard to actually track down. (I'm sure Drudge wasn't pleased by the minor dust storm/witchhunt kicked up in the media this month about his sexuality.)
'I think he is dead'
---
Follow Stories Like This
Get the Monitor stories you care about delivered to your inbox.