Request denied. Is Apple setting a dangerous precedent?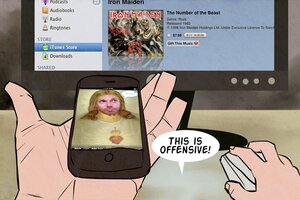 Jake Turcotte
Censorship is a slippery slope.
Just weeks after Apple came under fire for approving – and then un-approving – a game called "Baby Shaker," the company has again caved to critics, and eliminated two new applications. The first is Drivetrain, a BitTorrent client that would make it easy for users to access potentially copyrighted content.
As of yesterday, Apple announced that it had decided to deny the request. "[T]his category of applications is often used for the purpose of infringing third-party rights," said a spokesman, according to Wired. "We have chosen to not publish this type of application to the App Store."
The same fate greeted "Me So Holy," an application which let users snap a photo of themselves, and afix it to the body of a coterie of religious figures, including Jesus.
What's next?
---