A Google newspaper? Dream on, says CEO.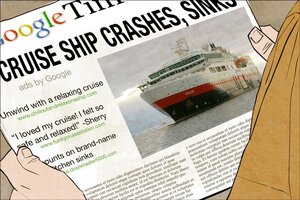 Jake Turcotte illustration
For months, rumormongers have wondered if Google was considering a bid for a major newspaper, such as the New York Times. (Also frequently mentioned as potential Times saviors are the music mogul David Geffen and Rupert Murdoch, who owns the Wall Street Journal, and the New York Post, among other papers.)
Why Google? Well, as Jeff Jarvis has written, Google has managed to perfect pretty everything else in the media business – the advertising, the aggregation, and the digital distribution. The next logical step is to dive headfirst into the reporting business. And Google has feinted in that direction.
This month, Howard Kurtz, the media critic for the Washington Post, reported that the Washington Post Company chief executive Donald Graham and Google chief executive Eric Schmidt "have been holding talks about a possible collaboration":
This could range from creating new Web pages to technological tools for journalists or readers. Hanging over the talks is the reality that the search giant, while funneling vital traffic to news sites, vacuums up their content without paying a dime.
---