Wikipedia bans edits to its Scientology pages. But at what cost?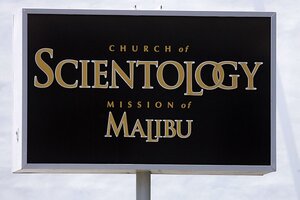 Jonathan Alcorn/ZUMA Press/Newscom
What ever happened to neutrality?
That's the question hurtling around the blogosphere this week, days after Wikipedia banned some edits to its entries on Scientology, a religion founded by L. Ron Hubbard in 1952. (Editor's note: The ban only affects addresses based on Church property.) As Marissa Taylor writes in the Wall Street Journal, Wikipedia made its announcement only after determining that the level of "hostility" over the page had reached unacceptable levels.
For months, site administrators have sought to mediate a war between Scientologists and the organization's detractors. "Some 430 Scientology entries on Wikipedia resulted in constant battles over revisions between the two camps. User accounts were created for the sole purpose of deleting or adding information on Scientology, a practice seen as harmful to Wikipedia's neutrality principles," Taylor writes.
A battle on two fronts
It's been a rough spring for Scientologists, here and abroad. Late last week, leaders of the French branch of the organization appeared in a Parisian court to defend against charges of organized fraud. According to Reuters, if the defendants are found guilty, they could be fined five million euros and ordered to cease their activities. Now the Church is fighting a second battle, one with equally wide-ranging consequences.
---