At E3, Nintendo pulls out its favorite weapon: nostalgia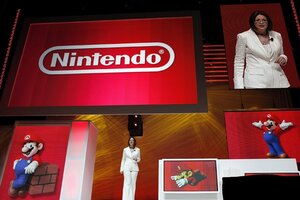 Damian Dovarganes/AP
In the 80s and early 90s, the word "Nintendo" was synonymous with "video games." That was the time of great characters, such as Mario, Donkey Kong, and Samus Aran from Metroid.
And today, almost 25 years later, Nintendo announced new games – starring Mario, Donkey Kong, and Samus Aran from Metroid.
The systems might be different. The graphics might be better. The controllers might be motion-sensitive now. But Nintendo knows that its greatest selling point is nostalgia.
The reaffirmation came at this week's E3 video-game convention in Los Angeles. Nintendo walked into the event as the undisputed leader in console sales. Both its Wii and DS handheld device outsold the Xbox 360 by a 2-to-1 margin last year.
With both systems, Nintendo's E3 lineup returned to the usual suspects.
First up was New Super Mario Bros. for the Wii. The cast and art style unmistakably resemble the Super Mario Bros. game for the original Nintendo system. In fact, this new title is not even a "new title" – a different game called New Super Mario Bros. came out for the DS in 2006 and sold exceedingly well. The Wii version shakes things up a bit. It features new four-player cooperative rules and graphics designed for today's TVs.
---