Microsoft's Natal hands-free gaming – gimmick or game-changer?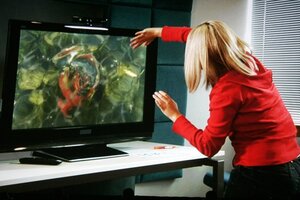 Fred Prouser/REUTERS
Kiss callused thumbs goodbye?
Microsoft's "Project Natal," a new add-on for its Xbox 360 video gaming system, promises to get gamers off the couch – and more into the game – for good. The peripheral, unveiled Monday, is a combination depth-sensor, camera, microphone array, and custom processor, and lets gamers control onscreen action with full-body movements and voice commands.
Much drooling has been done over the demonstration video of Natal's capabilities (imagine – Wii Bowling without a safety strap!), but without a release date, pricing details, or a list of titles that will make use of the (controller, non-controller) nontroller, it's difficult to get excited about running a living-room karate simulation anytime soon.
As Ian Paul writes for PC World, "Microsoft is famous for these types of product vision videos where it shows off what it thinks the future will look like. Those videos always look cool and are almost never accurate."
Remember Microsoft's Surface concept? The slick touchscreen interface wowed Web viewers and convention-goers in 2007, but failed to materialize as a viable consumer product. It's available today, but only to businesses.
---