Apple gets faster and cheaper, but will more consumers bite?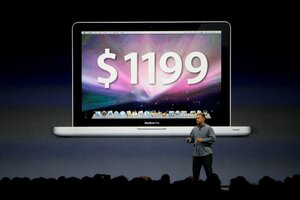 Jeff Chiu/AP
San Francisco – Fast and cheap (well, cheaper) was the mantra on Monday at Apple's Worldwide Developers Conference.
While the company dropped the price of its existing iPhone model to $99, they also said they'd start selling a faster one on June 19. That phone will be pricier for new customers – $200 for a 16 gigabyte model and $300 for 32 gigabytes – with a two-year contract.
But while the phone snatched most of the headlines from the tech confab that attracted some 5,200 developers, the faster and cheaper mantra also extended to its line of laptops.
Analysts say the company is being pushed to drop prices by growing competition in the smart phone market and sluggish laptop sales. Apple's move to drop the price of its smart phone will probably nudge their competition to bring down the price of their smart phones, too.
Prices for Apple computers are also falling. After all, Microsoft has been going after Apple in a recent advertising campaign that claims Mac are just too expensive -- and tad elitist, to boot.
---