Ransoming data: The new weapon of choice for cyber criminals?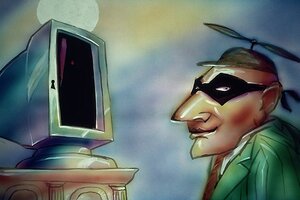 Newscom
Days after reports of a security breach first surfaced, T-Mobile, a major mobile network provider, last night acknowledged that hackers had gained access to sensitive data. But in a statement, the company said that "possession of this [information] alone is not enough to cause harm to our customers." T-Mobile, which is based in Bonn, Germany, is estimated to have upward of 30 million US subscribers.
The breach
Over the weekend, an anonymous hacker announced that he or she had gained access to T-Mobile's user databases, and stolen reams of confidential information. "We already contacted [sic] with their competitors and they didn't show interest in buying their data," the hacker wrote on insecure.org, a cyber-security site, "probably because the mails got to the wrong people – so now we are offering them for the highest bidder."
The author then listed an email address, hosted by safemail.net. Before the release of the most recent statement, T-Mobile had neither confirmed nor denied the hacker's claim.
Flashback
---