Tired of the Internet? Hey, you're in good company.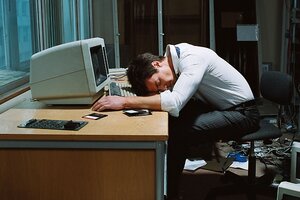 Newscom
According to a new study from the Pew Internet and American Life Project, a Washington-based research group, 39 percent of the adult population in the US has a "symbiotic" relationship with mobile Internet access.
No surprise there – as the study's author, John Horrigan, notes in a lengthy introduction, "it is easy to see that mobile access to the Internet is taking root in our society. Open laptops or furrowed brows staring at palm-sized screens are evidence of how routinely information is exchanged on wireless networks."
Horrigan says the 39 percent of hyper-connected adults "typically have ready access to high-speed connections at home, which likely pushes them toward deeper home high-speed use... At the same time, the desktop Internet experience migrates to 'on the go' as the handheld becomes a complementary access point to connect with people and digital content wherever a wireless network reaches."
The study further divides that 39 percent into five subdivisions, from "Mobile Newbies," who are still learning how to best harness the power of modern social media, to "Media Movers," who have "a wide range of mobile and online habits." Eight percent are classified as "Digital Collaborators," who use Web 2.0 tools such as Twitter, Facebook, and Flickr to harness their own creativity, and connect with others.
---