Google News now linking to Wikipedia – a recipe for disaster?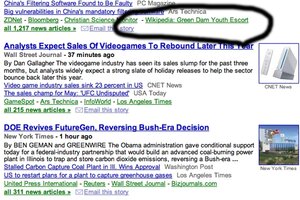 Google News
As you can see from our elementary attempt at Photoshop artistry, Google News today began linking to Wikipedia – a move search expert Michael Gray has called "incredibly horrible."
Since its launch in 2002, Google's news aggregator has maintained high standards for its "feeder" outlets. Most articles on the site come from established papers such as The Christian Science Monitor, wire services such as the Associated Press, or news sites such as Channel Web; there is also room for input from a coterie of blogs and online forums.
The inclusion of Wikipedia seems to indicate that Google tacitly views the encyclopedia as an equally reputable news source. But Wikipedia is an open-source encyclopedia, which means that each article is subject to editing by a community. The process has been the subject of controversy before, and it will probably be the subject of controversy again.
Should Wikipedia be elevated to the same plane, say, as The New York Times?
---