In partnership with disgraced scientist, US company clones hero pooch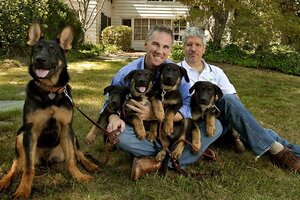 Ben Glass/PRNewsFoto
Some dog owners commission portraits of their dead pooch.
Others have the animal stuffed and placed over the fireplace. (Most of us are content with the memories.) But for James Symington, a painting or a statue apparently wasn't good enough. So last year the retired Canadian police officer entered a contest to have his dog, Trakr, cloned.
This wasn't just any ordinary hound. In the aftermath of the 9/11 terrorist attacks, Symington and Trakr traveled to New York, where they participated in the search and rescue efforts at Ground Zero. Trakr, a German Shepard, is widely credited with helping pull the last human survivor out of the rubble.
Hero pooch
"Once in a lifetime, a dog comes along that not only captures the hearts of all he touches but also plays a pivotal role in history," Symington wrote in an essay for the contest, which was sponsored by BioArts International, a California animal cloning company. The judges didn't take long to name Trakr the "most cloneworthy dog in the world."
BioArts regularly clones pets, usually for a fee of more than $100,000. Symington, though, got his clones for free – all five of them. According to Symington, the cloned puppies Trustt, Solace, Valor, Prodigy and Déjà Vu are dead ringers for Trakr, who passed away a few months ago.
---