A million new iPhones, $30 apologies, and two kinds of cracking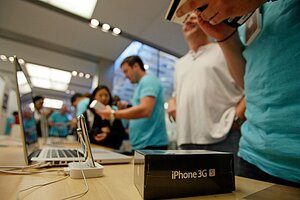 Eric Risberg/AP/File
Let's talk numbers.
1,000,000: The number of iPhone 3G S sales Apple rang up over its opening weekend. This beat analysts' predictions and easily outperformed Palm which, despite breaking its own sales record, moved fewer than 100,000 Pre smartphones on its first weekend. Apple CEO Steve Jobs, in his first public statement since taking a medical leave of absence from the company in January, touted the 50,000 third-party applications available for download in the company's App Store. The Atlantic saw the high sales numbers, but reminds readers that the faster iPhone still can't outrun recessionary economics.
20: The percentage of iPhones (original, 3G, and 3G S) that have sustained some kind of damage, according to a survey conducted by warranty company SquareTrade, as reported by TechCrunch. The most common cause of iPhone death? Drops or falls. (That 3.5-inch touchscreen is easy to break.) Next up? Water damage. Remember this summer: remove iPhone from swim trunks, then cannonball. Read the full results here (PDF link).
---
Follow Stories Like This
Get the Monitor stories you care about delivered to your inbox.