World's oldest instrument found. And boy, could those cavemen rock.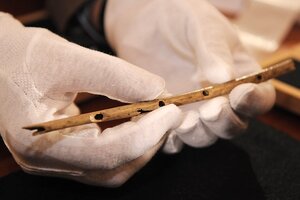 Daniel Maurer/AP
And you thought Mick Jagger was old.
Now we have evidence that shaggy-haired musicians were rocking out long before the introduction of the electric guitar, the double bass pedal, or the cow bell. Is it a prehistoric violin? A drum kit made out of boulders? Not quite. The instrument is a 35,000-year-old bone flute unearthed by a team led by Nicholas Conard, an archaeologist at the University of Tubingen, in Germany.
The flute, which was discovered in the same area as the Venus of Hohle Fels, was apparently made from the hollowed-out bones of a vulture. Writing in the latest issue of Nature magazine, Conard and his colleagues, Maria Malina of the Heidelberg Academy of Science and Susanne Munzel of the University of Tubingen, said the find demonstrated "the presence of a well-established musical tradition at the time when modern humans colonized Europe."
Conard's team excavated the flute in September 2008, the same month they recovered six ivory fragments from the Hohle Fels cave that form a female figurine they believe is the oldest known sculpture of the human form.
Rock of ages
---