Jackson's music dominates iTunes, Amazon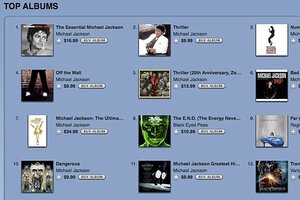 iTunes
A day after the death of Michael Jackson, the pop icon's songs and albums are seeing a rebirth on online music stores.
As of this Friday afternoon, Jackson's albums fill Amazon's top-15 sellers list, and claim eight of 10 spots on iTunes. Old-time Jackson hits like "Man in the Mirror," "Thriller," "The Way You Make Me Feel," and "Billie Jean" also held their own, upstaging popular offerings from The Black Eyed Peas and Lady Gaga.
News of Jackson's death dealt a crippling blow to some of the Web's biggest news sites, as TechCrunch's MG Siegler reported last night:
Various reports had the AOL-owned TMZ, which broke the story, being down at multiple points throughout the ordeal. As a result, Perez Hilton's hugely popular blog may have failed as people rushed there to try and confirm the news. Then it was the LATimes, which had a report saying Jackson was only in a coma rather than dead, so people rushed there, and that site went down. (The LATimes eventually confirmed his passing.)
---
Follow Stories Like This
Get the Monitor stories you care about delivered to your inbox.