Wimbledon takes tennis high-tech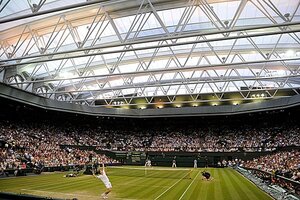 Kieran Doherty/Reuters
Venus Williams handed Dinara Safina a crushing defeat, while sister Serena bested Elena Dementieva in a close match at Wimbledon's women's semi-finals Thursday afternoon, setting up another all-Williams final for Saturday. It's the fourth time the sisters will meet for the title, and though the contenders may be familiar, a few new technological innovations are bringing the action to fans worldwide in ways not before seen.
Don't rain on my match point
Most notably, of course, is the All-England Club's new Centre Court retractable roof. The $131 million, 182,986 sq. meter accordion-style roof allows for play to continue in even the hardest midsummer downpours. But even for that kind of cash, rain delays aren't a thing of the past. The translucent top takes 10 minutes to deploy, and a sophisticated three-level air conditioning system (one for the roof, one for the stands, and one to circulate air at court level) needs 20-30 minutes to get conditions inside just right for play.
---