South Korea again hit by cyber-attacks, as search for hackers intensifies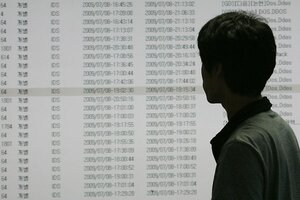 Ahn Youn-joon/AP
Even as a fresh wave of cyber-attacks today hit South Korean networks, computer analysts around the globe were predicting that the worst of the storm is over. According to media reports from Seoul, several institutions in South Korea were targeted Thursday, including Kookmin Bank, one of the country's largest corporations.
But officials in South Korea suggested that security programs had effectively blunted the assault, and told reporters that most sites were up and running at normal levels. In the US, where several government websites had come under fire from hackers, security teams have successfully repelled the threat, a White House spokesman said.
"The preventative measures in place to deal with frequent attempts to disrupt whitehouse.gov's service performed as planned," Nick Shapiro said yesterday, "keeping the site stable and available to the general public, although visitors from regions in Asia may have been affected."
---
Follow Stories Like This
Get the Monitor stories you care about delivered to your inbox.