Will the future of green energy sprout from the dry, arid Sahara Desert?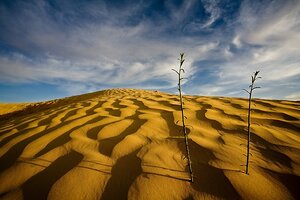 Newscom
Depends on who you ask.
This month, 12 prominent corporations signed a memorandum pledging to investigate the energy potential of the world's largest desert – the next step in a pie-in-the-sky plan tentatively labeled Desertec.
According to Bloomberg News, the 12 companies, led by the German engineering giant Siemens, believe that the sprawling Sahara Desert could one day supply up to 15 percent of Europe's electricity needs through solar panel arrays.
Various estimates from Reuters and the Financial Times have the project costing up to $555 billion; assuming the initial research proved promising, the actual implementation of Desertec could take decades.
Among the main goals of the project are "preparations for building a large number of networked solar thermal power plants distributed throughout the [Middle East and North Africa] region," a statement from the 12 companies reads. "The aim is to produce sufficient power to meet around 15 percent of Europe's electricity requirements and a substantial portion of the power needs of the producer countries."
---