Mobile Google Voice apps put Google in middle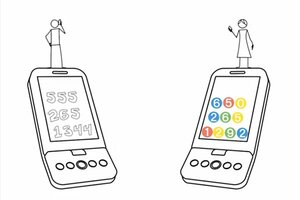 Google/Screengrab
The Google Voice storm keeps growing louder.
Though still not yet open to everyone, the call routing service has industry watchers predicting a Google coup of yet another sector. Today's news – that the company has released Android and Blackberry versions of Voice that can sync with a phone's contacts and streamline outgoing calls – just fans the flames.
The new apps streamline the experience of using Google Voice on your mobile phone. (For an overview of the service's features, click here.) With the new apps, according to a Google blog post, users can:
• Access your voicemail: read message transcripts, follow along with "karaoke-style" playback of messages, read SMS messages sent to your Google
• Voice number (even if your phone doesn't receive SMS messages) and access your call history
• Place calls that display your Google Voice number from your address book, the app dialer (Blackberry) or the native dialer (Android)
• Send SMS messages that display your Google Voice number
• Place international calls at low rates
---
Follow Stories Like This
Get the Monitor stories you care about delivered to your inbox.