As Rafsanjani sparks new protests in Iran, one popular blogger is mysteriously silent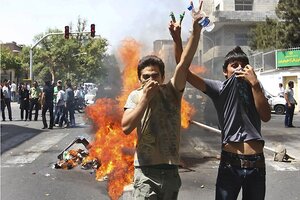 Associated Press
In the days after the June 12 presidential election in Iran, hundreds of thousands of protesters took to the streets, spurred on – at least in part – by messages exchanged on a range of social networks, from Facebook to MySpace. Among the most popular was persiankiwi, a Twitter user purportedly located in Iran. Such was his or her clout that one outlet dubbed persiankiwi "the world's most important journalist."
At a time when many Western journalists were barred from leaving their hotel rooms – or forbidden from entering the country at all – persiankiwi appeared to have a front-row seat to the carnage. On June 24, he or she posted the following updates to Twitter:
• saw 7/8 militia beating one woman with baton on ground - she had no defense nothing - #Iranelection sure that she is dead
• they were waiting for us - they all have guns and riot uniforms - it was like a mouse trap - ppl being shot like animals
• I see many ppl with broken arms/legs/heads - blood everywhere - pepper gas like war
• just in from Baharestan Sq - situation today is terrible - they beat the ppls like animals
---
Follow Stories Like This
Get the Monitor stories you care about delivered to your inbox.