Want to create an app? There's a class for that.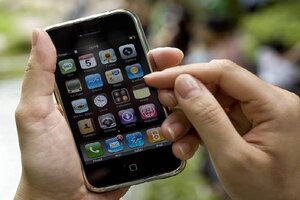 NEWSCOM
There's no doubt that the launch of the iTunes App Store has spawned a cottage industry of iPhone application developers eager to make a few bucks.
Take iPhone developer Ethan Nicholas, for example. Within one day, he earned $37,000 after his game iShoot reached No. 1 in the iTunes App Store. Or Steve Demeter, an iPhone developer, who made $250,000 in two months after he created the $5 iPhone game Trism.
Though such iPhone app success stories may be rare, with 1.5 billion iPhone apps downloaded within a year, some colleges are realizing that the time is ripe for budding iPhone app developers.
Now, in an effort to train future developers, colleges are offering classes in iPhone application development to students pursuing computer-related majors.
Last fall, Stanford University in Palo Alto, Calif., began offering a 10-week iPhone app development class to 60 students. The class, which is fittingly taught by two Apple employees who are well versed in iPhone app technology, was expanded to include the spring 2009 semester. But not only did Stanford students get to learn the ins and outs of iPhone app development – all the courses were filmed and uploaded onto iTunes U so people could download them for free. (You can take a peek into the classroom and see what students have to say about the course here.)
---
Follow Stories Like This
Get the Monitor stories you care about delivered to your inbox.