RadioShack, Lance Armstrong team up for 2010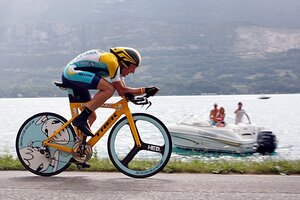 Charles Platiau/Reuters
This year's Tour de France isn't yet over, but Lance Armstrong, the figure responsible for bringing professional cycling back into the US national consciousness, has lined up RadioShack as his sponsor for next year.
The new partnership means Armstrong will sever ties with Astana, the team, backed by the government of Kazakhstan, that had run into financial trouble in 2009.
Armstrong, who teased the announcement Tuesday on Twitter, was happy about the new alliance. "To be able to compete for an American team comprised of the world's top cyclists, supported by the best coaches and staff – I couldn't be happier to partner with RadioShack, a truly iconic American brand," he said in the statement. Just hours after the announcement, @TeamRadioShack had over 3,000 followers on Twitter.
---