New Twitter welcome page highlights search function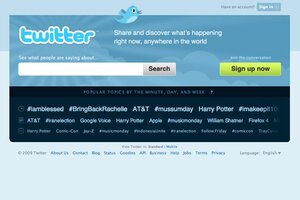 Twitter.com
It's not exactly the sexiest news to hit the Web today: Twitter, the supremely popular social networking site, has a new welcome page. If you're a regular user of Twitter, of course, the site probably boots up straight to your own homepage, so you may not have noticed the difference. (Either that, or you're tweeting through a third-party application such as TweetDeck.)
But if you look closely at the new screen, which is pictured above, you'll see there's a good deal to the new interface. For one, as CNET's Caroline McCarthy notes, "Twitter is not all about you anymore." Instead, the screen is dominated by a large search box, and a list of trending topics – a nod to Twitter's increasing popularity as a search tool.
---
Follow Stories Like This
Get the Monitor stories you care about delivered to your inbox.