Bing unveils jingle contest winner, and it's a doozy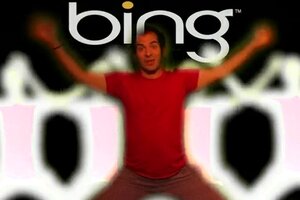 Screen grab from YouTube
So a couple weeks ago, Microsoft invited users to create a theme song for its new Bing search engine. Maybe the marketing budget was getting a little tight. Who knows? Point is, we've now got the winning jingle for the first annual "Bing Goes the Internet" contest – a one-minute-plus music video created by a gentleman named Jonathan Mann.
And already, the rave middling reviews are pouring in.
"I would hesitate to call it the worst jingle ever, a title I would give to Toyota's 'Saved by Zero' TV ad campaign," writes the Seattle Times' Sharon Chan. "The 'Bing Goes the Internet' video looks a lot like an Oompa Loompa song and dance from Tim Burton's 2005 film remake of 'Charlie and the Chocolate Factory.'"
---