Lolcats take to the stage with a musical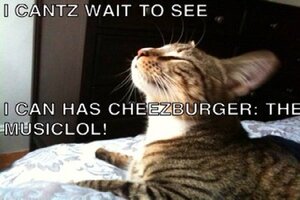 Amy Farnsworth
It all started with a picture of one chubby cat and a grammatically incorrect phrase: I Can Has Cheezburger?
Now, lolcats (pictures of cats with funny misspelled captions, written in broken English, or "lolspeak," featured on the website icanhascheezburger.com) are the basis for an independent, off-Broadway musical – I Can Has Cheezburger: The MusicLOL!
Tonight, fans of the website can experience the lolcats phenomenon live. The Internet-inspired musical will debut Friday at the Cherry Lane Theater in New York as part of the the city's International Fringe Festival, where it will run for five nights in August. Tickets for the show cost $15.
The musical was written over the course of two months by two AOL editors, Kristyn Pomranz and Katherine Steinberg.
But where did the idea for such an unusual musical originate in the first place?
Ms. Steinberg says she heard Ms. Pomranz singing about a lolcat one day. After the impromptu tune surfaced, both Pomranz, who has a musical theater background, and Steinberg, who has studied sketch comedy, began writing lyrics for their off-Broadway show and soon cast nine actors to play various lolcat characters.
The plot centers around the main character, lolcat, who's on a quest to find a cheeseburger. On his journey, he meets a series of lolcat characters, including lolrus, a walrus who has lost a bucket, and Orly Owl, a snow owl, part of another Internet fad, who's always saying "O, rly? (Oh, really?)"
---