Michael Vick on the Web: protests, misspellings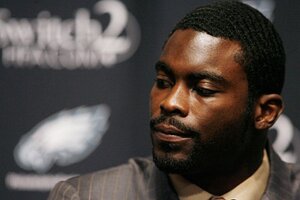 Tim Shaffer/Reuters
The announcement that Michael Vick, the former NFL quarterback fresh off serving a 23 month prison sentence for his role in running a dogfighting ring, had signed with a new team set off a flurry of activity on the Web.
On Friday, the Philadelphia Eagles ran live video of his first press conference with the team nearly full-screen on its website. The site's online store also began selling $79.99 Michael Vick replica jerseys.
The Eagles' game against Vick's former team, the Atlanta Falcons, was close to selling out Friday morning, having seen a jump in sales, a Falcons official told the Atlanta Journal Constitution. And, despite a question at Vick's press conference that would seem to indicate otherwise, there is little evidence that Eagles season ticket holders are putting their seats up for sale on eBay in protest, though one Philadelphia Craigslist poster says he'll take any tickets protesting fans aren't going to use:
i know there will be some people out there that will give up on the eagles and throw their ticket away because they picked up mike vick...well you dont have to trash em...give em to me!...i work at a residential treatment facility for teenage boys that would love to attend the games if your done with the eagles....
---