Artist finds inspiration in Google Maps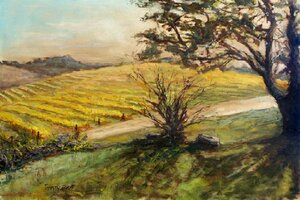 Bill Guffey
Nearly every day, Bill Guffey, an artist based in Burkesville, Kentucky, spends time painting picturesque scenes from the streets of London, Florence, and New York.
How he travels there, couldn't be simpler. With the click of a computer mouse, Guffey is transported to these international destinations within seconds using Google Maps Street View.
The program, launched in 2007, provides panoramic views of public streets and landmarks in about a dozen countries in North America, Europe, and Asia. While most people use Google Maps for directions, Guffey uses them as a muse.
Guffey's rural studio is 30 minutes from the closest Wal-Mart, and he hasn't been to 99 percent of the places he's painted, he tells ABC News.
But when he boots up his computer, the whole world is at his fingertips. His oil paintings are inspired by the 360-degree horizontal and 290-degree vertical panoramic Google Maps Street View images he can see on his computer screen.
"I live in a very rural area," Guffey, a graphic artist for the Cumberland County News, told ABC News. "Here, I can go out and I can paint cows all day, barns all day … With Street View, I can find things I normally wouldn't see here."
---